Perhaps I should start at the beginning. I am a suburbanite married to a farmer (who doesn't farm, but that's for another time). I was raised in the 'burbs, my parents were raised in the 'burbs and my grandparents were some of the first to live in the 'burbs when suburbs were a new thing.
We live on 8 mostly wooded acres just outside the 'burbs. Our home was a compromise between me, who wanted to live in a *shudder* neighborhood and my farm-blood husband who would have merrily stuck us on 500 acres in the middle of nowhere.
The first thing I did was put in a vegetable garden. My mom and grandfather had always had big backyard gardens and I missed picking dinner. Then I got a few laying hens- well more than a few but again that's a different story. Next came the honey bees, quail and mushrooms. By this point, I was officially bitten by the farm bug.
Through all this, my husband continued scouting land for the farm, even contemplating a quail hunting plantation 30 miles from nowhere! Nothing seemed to work out. So I started praying about it. God answered with The Parable of the Talents (Matthew 25:14-30). He had entrusted us with 8 acres and we were looking for more instead of using what we had!
That's when I started praying about how to build our farm. I had already planned on goats, but the fencing is expensive and we haven't been able to swing it yet. I read advice to "start with something you know". I thought vegetables? Our vegetable garden produces just enough to feed my family, my parents and have a few extras to give away (zucchini anyone?). To expand the garden would mean more deer fencing and years of soil building to have something vegetables could grow in.
Which brought me to what else I knew- chickens. By this point, my chicken empire had grown into about 2 dozen laying hens and a rooster. Extra roosters were sent to freezer camp. I am not making any money selling eggs, but I enjoy my birds and customers so much, it's worth it. Some of those customers had been asking about meat. Then a friend turned me onto a farmer named Joel Salatin who is probably the king of pasture raised broilers.
I figured I was onto something here and set about building my first chicken tractor. The next day, we visited another farm to purchase raw milk for my cheeses. He was butchering broilers and had a line of people coming to pick up their monthly chicken. I went home, ordered a chicken plucker (happy anniversary, baby), 25 chicks and built another tractor.
I have presold 18 of those chickens and have had to put people on waiting lists for future chickens (50 more chicks are on their way). I pray that we are taking the farm in the right direction. Thank you for your interest and support!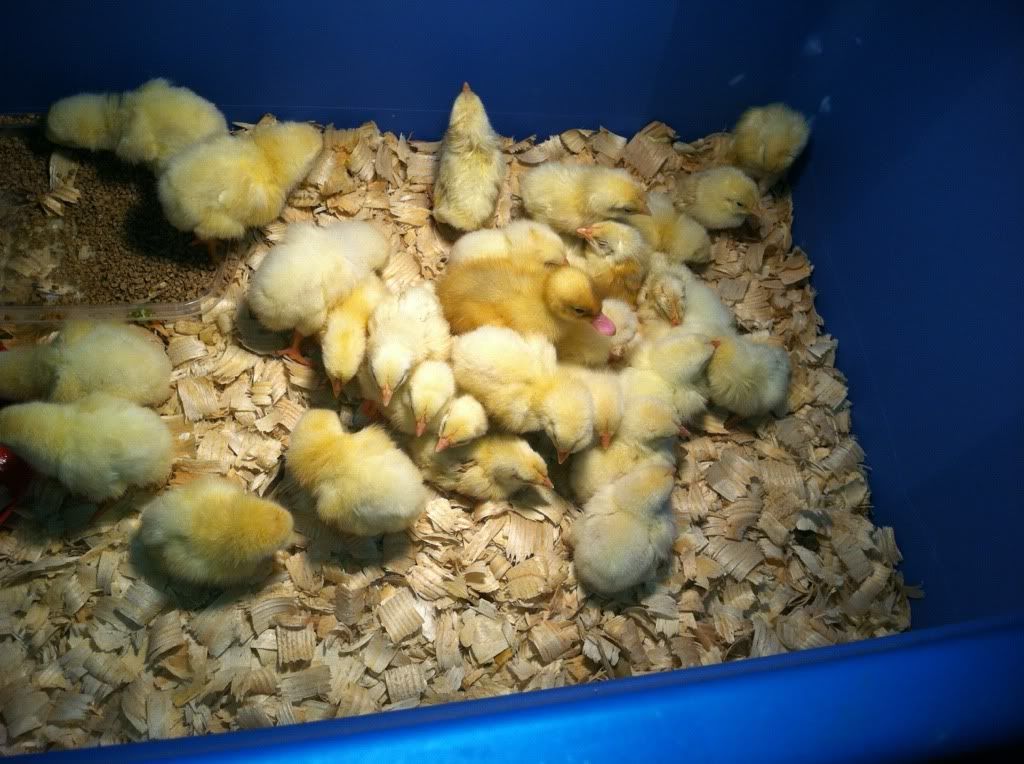 What is different in this picture? Quack, quack. That's right we received a duck stow-away. His name is Clyde.