Goat Breeding:
Scilla and Phoebe are bred. I think Trixie is too. Today is day 23 on her. Last month she cycled on day 20. I'm feeling much better about Magnum's virility. I should know on Onyx tomorrow. Fingers crossed. Onyx's little girls were hot little messes yesterday driving all the bucks crazy. It looks like she's finally weaned them! It's so much easier not to have to haul food and water to yet another pen.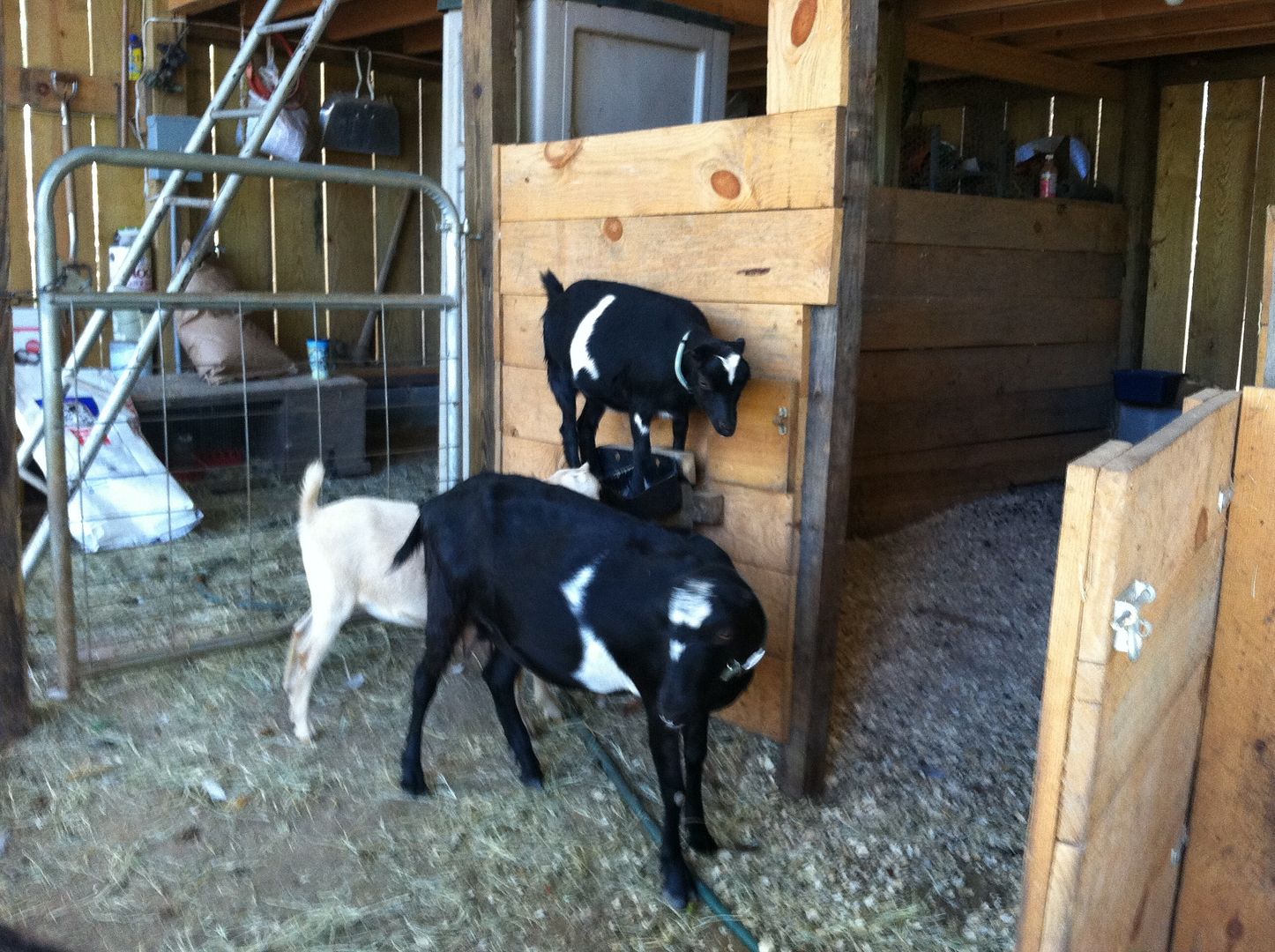 Chickies and Ducklings:
Lucky's chicks and the ducklings are doing well. Growing fast. I have Lucky and her brood in that little cage you can see past the barn gate. I'm going to have to find them some bigger digs. I don't want to let them out because the hawks always have an eye out for little birds. I've lost too many and I think it will be great to have new pullets laying come spring.
Gabby is not so lucky. She nested on a shelf in the barn. See that Pepto bottle in the top right corner of the picture? That's the shelf. Her first egg was zipping yesterday afternoon. This morning I found the chick dead on the ground. She had another chick hatch this morning. I moved the nest to the ground, but I'm going to have to find a safer place for her.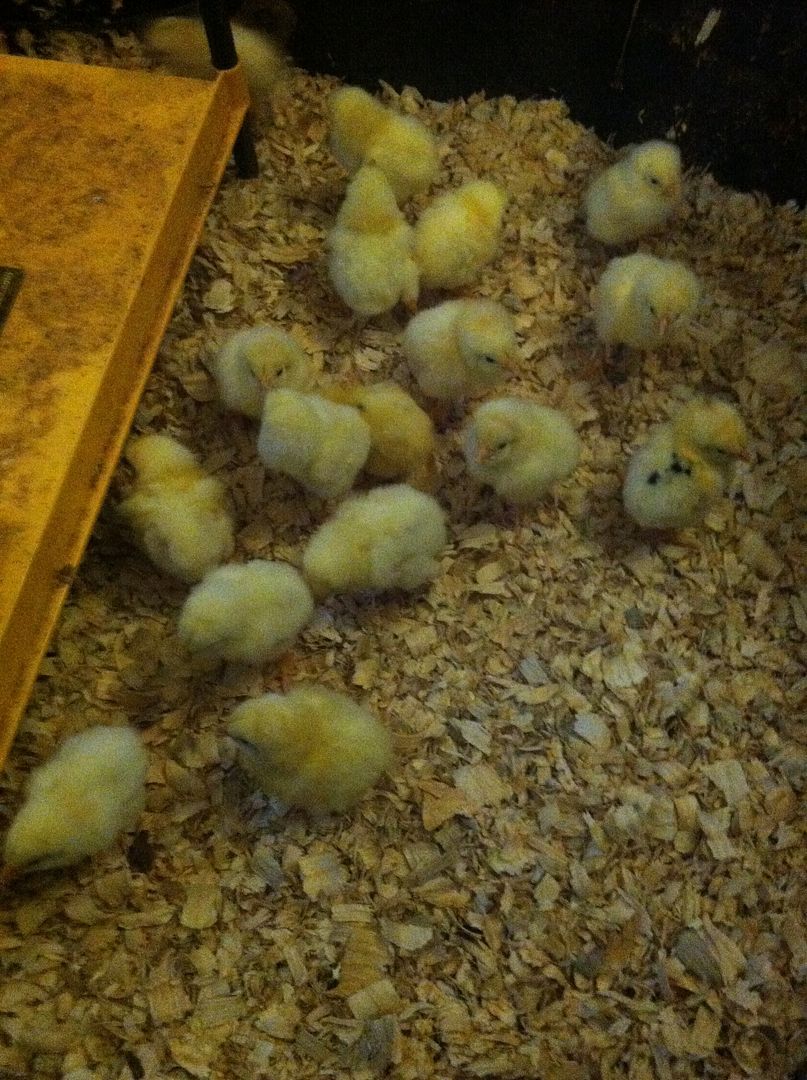 I ordered a small batch of Cornish X. My farm girl BFF is getting 10 and I am raising the remaining 15 with the friends who help me butcher. They're caring for them through the brooding stage then I'll keep them in the tractor until their ready to butcher. We will split the meat.
Check out the guy with the black spots. So weird. I got these from Welp Hatchery. I've never used them before but it was the best price on 25 roosters. $2 each delivered. They all look great!
Porcine Princesses:
The piggies got a redneck, eyesore, FREE, DIY house. Did I say FREE? They love it and I love it and I love my hubby for constructing it. Thank you MyChurch for the tin. I was worried about them out in the elements with this cold weather. A warm pig = a happy pig = a fat pig = pork chops. It's a proven equation along the same mathematical discipline as Pie > Cake. Just take my word for it.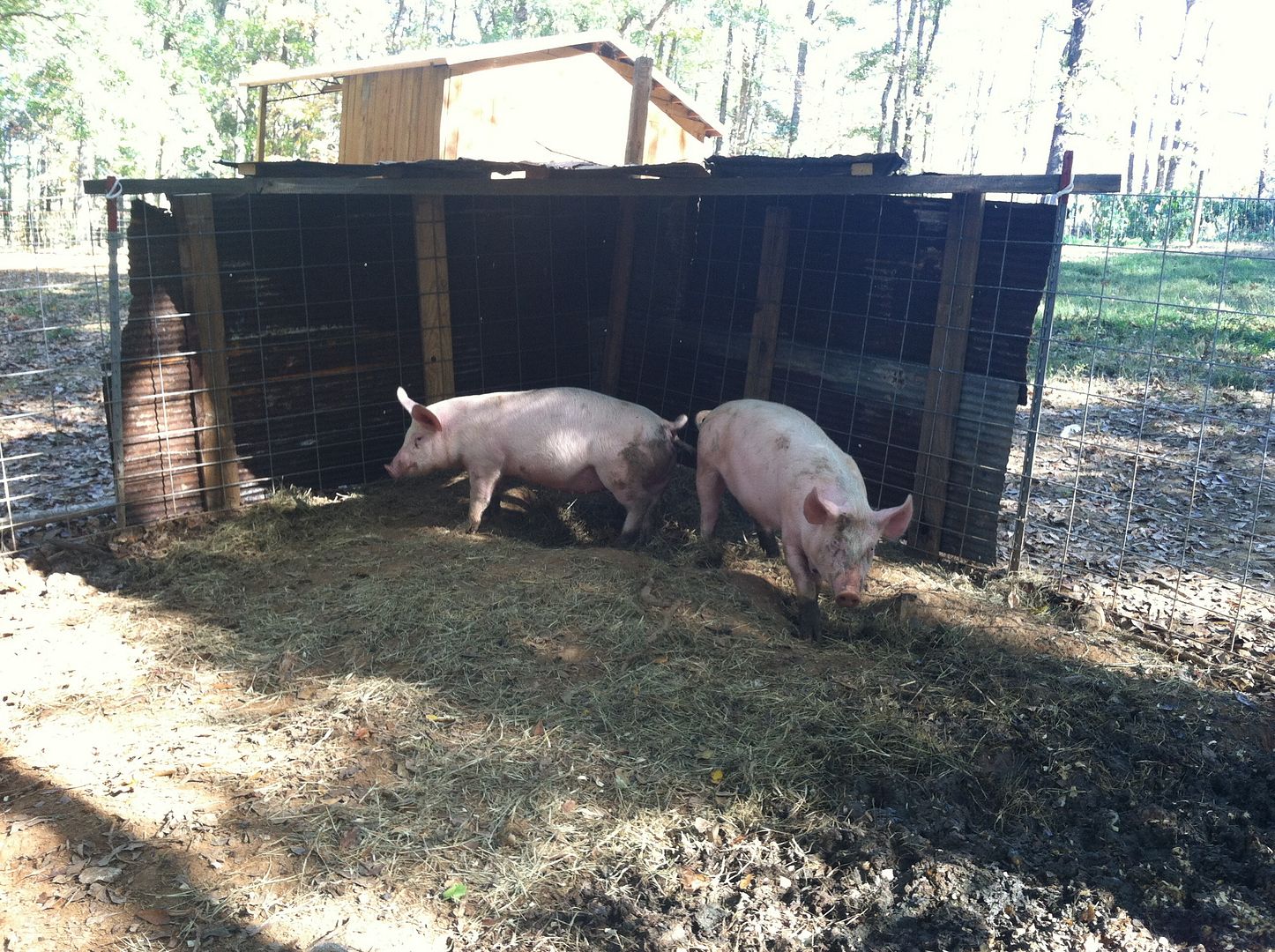 Vegetables:
The garden finally froze but before it did, we picked nearly 25 pounds of peppers! I need to get them frozen tomorrow. I'm thinking some goat cheese stuffed chilies for dinner. Yum!